South Sudan President, Education Cannot Wait Jointly Announce Extended Multi-Year Education Response for Crises-Impacted Sudanese Children
by Joyce Chimbi (

nairobi

)
Inter Press Service
NAIROBI, Jun 24 (IPS) - South Sudan is experiencing one of the most severe crises in the world today, causing fragility, instability, and economic stagnation. While a peace agreement was reached in 2018, sporadic intercommunal violence and climate-induced disasters continue to spur displacement. More than 2.2 million people are internally displaced. Another 2.3 million have fled to neighboring countries as refugees.
"South Sudan ranks the lowest on the human development index. It is the poorest country in the world and will need to catch up across all sustainable development goals and especially in areas such as eliminating extreme poverty, improving the education system, and gender equality. Yet, before COVID-19, 2.8 million children, and adolescents, or 70 percent of school-aged children, were not attending school. The number is now closer to 3 million," ECW's Executive Director Yasmine Sherif told IPS.
Sherif was on a field mission to South Sudan, where she met the President of South Sudan, Salva Kiir Mayardit, and Awut Deng Acuil, South Sudan's Minister of General Education and Instruction, to assist immediate solutions to the education crisis in a country where only 13 percent of children transition to secondary school. For them, education and conflict are two sides of the same coin. Their joint mission is to ensure no child is left behind, especially in hard-to-reach areas such as Pibor and Abyei.
"Years of conflict and forced displacement, compounded by climate-induced disasters, have taken a heavy toll on South Sudan's next generation. Now is the time to turn the tide and provide the most vulnerable girls and boys with the protection and hope that only a quality education offers. By working together with the Government, donors, civil society, and across the United Nations, this is the single best investment we can make for the future of this young country and the entire region," said Sherif when she met with Ministry officials in Lakes State.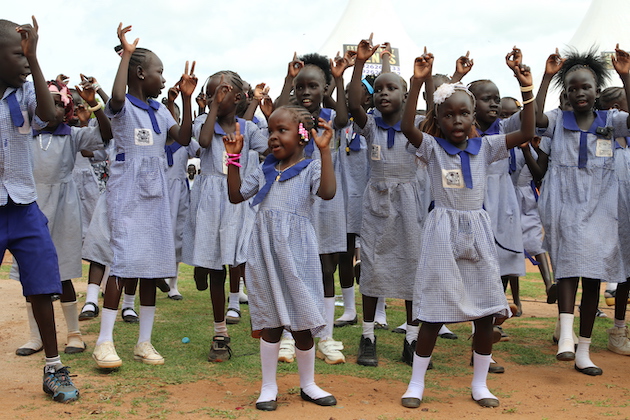 ECW is the United Nations global fund for education in emergencies and protracted crises and has supported South Sudan with multi-year investment since 2020. To address these interconnected crises through the transformative power of education, President Kiir and Sherif announced USD 40 million in catalytic grant funding in a function attended by key stakeholders, including the governor of Lakes State, education officials, parents, and children.
From the Lakes State, the fund has launched its second and the largest ever multi-year investment amounting to USD 75 million and has secured two-thirds of that amount, which is USD 50 million. Of this, ECW contributed USD 40 million. The Global Partnership for Education provided another USD 10 million for Education. In addition to the new multi-year investment, ECW also announced a half-a-million dollar First Emergency Response grant to support the immediate education response to the arrivals of refugees and returnees fleeing Sudan.
"We appeal to government donors and the private sector to close the remaining gap of one-third, equivalent to USD 25 million, to fully fund a multi-year investment education program. We say five for five to fully fund the multi-year investment. If five strategic donor partners and private sector (partners) offered five million dollars each, we would have a fully funded multi-year resilience program in the education sector," she says.
ECW funding in South Sudan now tops USD 72 million, up from the fund's USD 32 million invested to date – reaching close to 140,000 children, built or rehabilitated over 160 classrooms and temporary learning spaces, and provided learning materials to 50,000 children thus far.
With the extended response multi-year response, children will continue to enjoy a quality, safe, inclusive education. Sherif says there is a special focus on children with disability, especially those with cognitive disabilities, an invisible problem that often goes unrecognized among children in developing countries.
Further stressing that the President and education ministries are fully committed to bringing girls back to school through progressive messaging to the community, policy, and law. The push to keep girls in school and out of reach of child marriages and early child pregnancies is unrelenting.
"The Government of South Sudan is fully committed to ensuring that all children are able to obtain a quality education. Education Cannot Wait's top-up investment will provide life-saving educational opportunities for tens of thousands of crisis-affected girls and boys across the country," said President Salva Kiir Mayardit.
"To advance this work, we are calling on world leaders to step up funding for ECW and its in-country partners. This is a critical investment in sustainable development, peace, and prosperity for the people of South Sudan and crisis-impacted children worldwide."
Closer home, the current conflict in Sudan is fuelling additional needs in South Sudan. More than 100,000 people have crossed the border in recent weeks. Cornered by unrelenting multiple challenges, options for a better future shrink with every new challenge. Unmitigated, an entire generation of children could miss out on lifelong learning and earning opportunities.
"In light of the unfolding Sudan crisis, we will allocate and make an announcement of half a million dollars to support the Government of South Sudan to provide education to arrivals and returnees fleeing the Sudan conflict. Children and adolescents who were already going to school will continue to do so uninterrupted, have school meals, and psychosocial and mental health support," Sherif said.
The new funding will extend ECW's Multi-Year Resilience Programme in South Sudan for another three years. The three-year programme will be delivered by Save the Children, the Norwegian Refugee Council, and Finn Church Aid, in conjunction with the Ministry of General Education and Instruction and other partners.
It will reach at least 135,000 crisis-affected children and youth – including refugees, returnees, and host-community children – with holistic education supports that improve access to school, ensure quality learning, enhance inclusivity for girls and children with disabilities, and build resilience to future shocks.
Importantly, the new multi-year programme will improve responsiveness and resilience through improved evidence-based decision-making, strengthen coordination and meaningful engagement with local actors, and scale-up resource mobilization.
As the United Nations global fund for education in emergencies and protracted crises, ECW collaborates closely with governments, public and private donors, UN agencies, civil society organizations, and other humanitarian and development aid actors to increase efficiencies and end siloed responses.
ECW and its strategic partners are assessing the impacts of the civil war in Sudan on neighboring countries, including the Central African Republic, Chad, Ethiopia, and South Sudan, to provide agile and responsive investments that return crisis-impacted girls and boys to the safety and protection of quality learning environments. The fund urgently appeals to public and private sector donors for expanded support to reach more vulnerable children and youth.
IPS UN Bureau Report
Follow @IPSNewsUNBureau
Follow IPS News UN Bureau on Instagram
© Inter Press Service (2023) — All Rights ReservedOriginal source: Inter Press Service